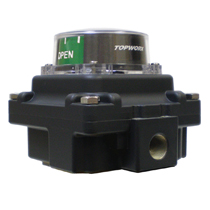 Switchboxes are often an understated accessory to any actuated system. Not only do they provide a feedback to a control room as to the position of the actuator and valve, but they can also provide visual feedback to engineers who are on site.
The range of switchboxes that we offer are designed and manufactured by Topworx (formally Twistset). With a wide range of variations and designs available, we are confident that we will be able to supply you with a switchbox ideally suited to your process and environment.
The key features of our limit switchboxes include:
Stainless Steel Drive shaft for extra reliability and corrosion resistance.
Easily accessible internal terminal strip located close to the cable entry.
Option of a beacon style visual indicator.
Available in ATEX approved and Explosion proof.
Capable of Ingress rating of IP68.
Fieldbus also available in both ASI and Profibus formats.
Switchbox can be utilised as an Actuator Control Station by direct mount of Solenoid valve to switchbox thus requiring only one cable termination, as the switchbox also acts as a junction box.
Namur interface to allow easy interface with all Namur Actuators.
Option of single pole double throw or double pole double throw switches.
Can be used with various types of switch, Proximity, Pneumatic and standard electrical to name a few.
Switchboxes can be prepared in various different colours and branded to suit your company.
Poly Carbonate and Aluminium can be used as housing material.
Fully enclosed boxes are weather proof and resilient.
Durable design and high build quality result in a reliable and long lasting switchbox.
Through variable position of switch strikers, switchboxes can be finely adjusted to discrepancies in valve and actuator positioning and construction upon installation. This is achieved through a unique 'twist to set' striker arrangement.
Ergonomic and efficient in design.
Capable of multi position switches for 3 position actuator or valves.
For more information on the specific switchbox variants available, please do not hesitate to contact us.