High Quality Rack and Pinion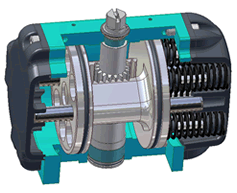 Forming the core of our Pneumatic Quarter turn products is our range of High Quality Rack & Pinion actuators. These actuators are high quality in their production, manufacture and design. With forty years experience and expertise in the field of actuation, AMG are able to offer one of the best performing, highest quality actuators available on the market today.
The product is a highly reliable, long lasting, high performance pneumatic actuator that is well suited to the current requirements of the process and fluid management industries. Its compliance with a host of different standards ensure that it is adaptable and fully interchangeable with a large variety of actuator and valve ancillary products. The models within the range come in two types, the first being Spring Return (SAF) and the second being Double Acting (SAD).
Some key features of our high quality actuators include:
Solid Stainless steel piston guide rods.
Stainless Steel Pinion Shaft.
Balanced dual Aluminium alloy pistons allow for less weight and elimination of side loads on shaft and housing.
Anti Blow Out design for drive pinion.
Maintenance free unit – lubricated for life.
Each and every dynamic O-Ring is supported by a bearing.
All bearings are high grade and low wear.
Capable of operating with air pressure up to a maximum of 10 Bar (145 PSI).
Can also be operated using any non-aggressive gaseous medium, hydraulic oil or even water (on request).
Salt Spray tested to 50021.
Top works interfaces to VDI/VDE 3845 (with VDI/VDE 3847-2 available).
Base interface to ISO 5211 and DIN 3337.
Air port mountings to NAMUR standard.
Encapsulated, captive springs in end caps (SAF models only), which are Delta Tone treated to protect against• corrosion and maintaining spring characteristics.
Multi Spring design allows for varying torque characteristics with each actuator and also protects in the event of a• single spring failure.
Stainless steel end cap bolts used, ensuring a higher level of corrosion resistance.
Anodized interior and exterior for added resistance to both corrosion and wear; exterior also has static reducing gliss finish.
Dual F0 mounting pattern on base for added flexibility.
Certified to ATEX 100a.
Certified to SIL 3.
Each Actuator is factory tested.
Adaptable to other Quarter Turn applications, such a dampers.