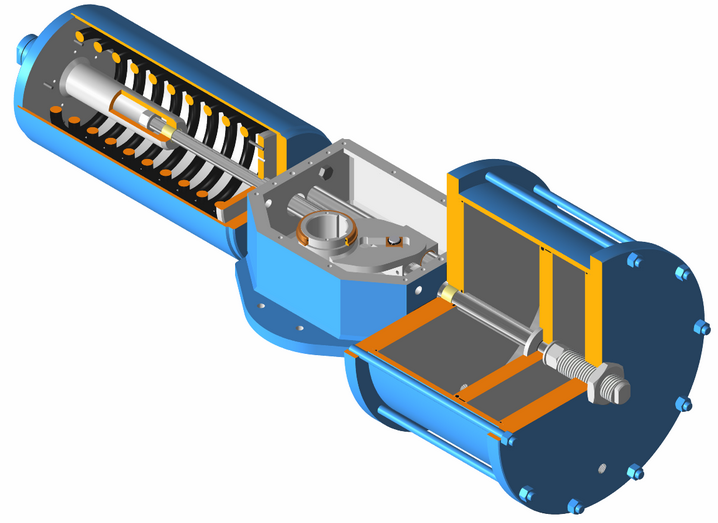 For torque requirements higher than 7000Nm, rack and pinion actuators are often not cost effective. Due to this, we offer a range of high-powered Scotch Yoke Actuators, which can deliver higher torque outputs.
Built by Pro Control, our high powered scotch yoke actuators are high in both build quality and performance. They are capable of withstanding the harshest of environments and applications.
Through utilising a traditional mechanism, our Scotch Yoke Actuators are able to produce high power to weight ratios and high efficiency. Available in both double acting and spring return formats, we are confident that we are able to supply you with a product to suit your high torque requirements.
The key features of our Scotch Yoke Actuators are:
Weatherproof housing fabricated from carbon steel ensures light weight and high strength.
Canted and Symmetric steel scotch yoke mechanisms available allowing flexibility of torque output profiles.
Internally polished pneumatic cylinder provides maximum protection against corrosion and longer sealing life.
Carbon steel piston is supported by a high strength, alloy steel, chromium plated piston rod reducing corrosion and wear.
Modular design and construction resulting in flexibility and interchangeability.
High strength alloy steel chromium plated transversal thrust reaction bar.
Fully encapsulated factory welded spring cartridge to ensure personnel safety and simplified assembly
Alloy steel external end stroke adjustors are guarded by means of protection cap, reducing corrosion.
Standard mounting pad to allow for control panel or weatherproof control cabinet assembly.
Double and single acting actuators can be supplied with emergency air tanks in order to allow actuator operation in the event of power supply failure.
3D beacon position indicator, allowing for positive visual indication.
Actuator and control system fire protection available on request.
By incorporating each of these key points into our scotch yoke actuators, we are able to offer our customers a product of the highest quality and of the highest performance.