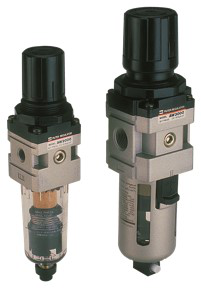 The Filter, Regulator and lubricator or FRL for short is one of our core air preparation products. The SMC AC range has various port sizes ranging from M5 to ¼" to 2". This covers a large variety of applications and makes it suitable for use with a wide range of products.
With a 5 Micron filter element as standard this cater for the vast majority of processes and applications. If a finer level of filtration is needed then we can offer levels as low as 0.01 Microns.
The regulator helps improve efficiency by reducing wear at component level and by lowering energy costs in the pneumatic system. The AC series comes with an integrated pressure gauge as standard.
Utilising Japanese engineering and manufacturing, our FRL units utilise efficient design and high performance to meet most requirements.