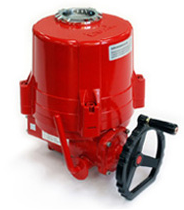 Quarter Turn Electric Actuators
We offer a range of quarter turn electric actuators that have been designed, developed and manufactured by i-Tork. Through our partnership with i-Tork, we are able offer a competitive, dynamic and quality range of electric actuators to today's market.
Design & Quality
Good design and quality manufacturing combine in the ITQ series of electric actuators to give a product that is:
Compact design and lightweight.
High build quality and finish
Pragmatic in design, the ITQ range has a host of features adopted with 'real world applications' in mind. Such as an internal heating motor to reduce internal condensation.
Quality control in accordance with ISO9001:2000, Reach and other prominent directives with the process control industry.
With manual override included in all but the smallest model, safety is a paramount feature to the ITQ actuators.
With all but the three smallest models offering a visual position indicator, end user convenience is a key consideration.
With a high standard powder coat finish, ITQ electric actuators are both wear and corrosion resistant.
Able to be tailored to various different voltage types and accept 1 or 3 Phase input.
Detachable drive bushing, for easier machining at a lower cost.
The i-Tork ITQ Range
With 14 models in its range, the ITQ series of actuators caters for torque requirements from 20Nm up to and including 9000Nm. In addition to this, each model in the ITQ range can be augmented using various optional features that can be incorporated on request. These additional features include:
Battery backup option, resulting in a fail safe actuator.
Explosion proof in accordance with Exd IIB T4.
Customised colour options.
Extended travel angles.
Remote position control.
Should you have any questions regarding the ITQ range of electric actuators then please do not hesitate to contact us.