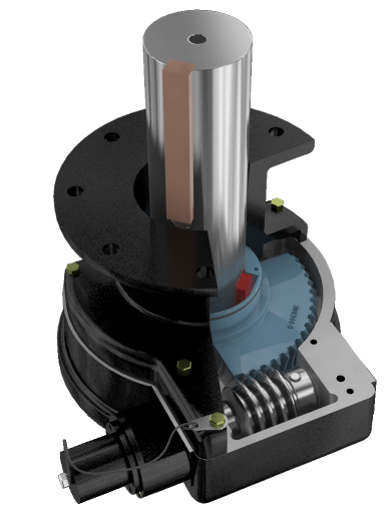 Designed and manufactured by Dynatorque in the USA, our range of "D-Lock" valve immobilisers combine metal to metal safety with classical mechanical engineering principles to provide a product that is intuitive, retro fit friendly and effective.
There are several scenarios where it may be necessary to prevent a valve, damper or quarter turn device from rotating. These include servicing of actuators, pipelines, valve isolation and plant down time to name but a few. Basically, any situation where movement of the valve would be undesirable or even disastrous such as torque seated triple offset butterfly valves.
Ideal for this application is the D-Lock, a robust mechanical 'sandwich mounted' quarter turn device. The device is installed between the valve and the actuator and has no effect on the rotation of either the valve or the actuator unless operated.
Other features of the D-Lock include:
Added Safety Feature of lockable cover so that unit cannot be engaged without authorisation.
Indication for when the device is engaged.
Capable of withstanding torques up to 29,300Nm.
Cast Iron Unit casing as Standard, but Stainless Steel available.
Stainless Steel input shafts.
D-Locks are completely sealed units and therefore weatherproof.
Units are also lubricated for life.
Should you have any questions regarding the D-Lock, then please do not hesitate tocontact us.