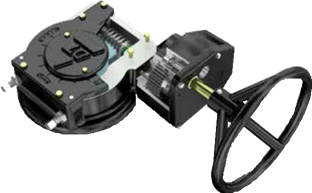 Similar to our manual override devices, the Dynatorque Valve Gearbox is a robust, quality and dependable device used to manually operate valves where an actuator is not required/available. Designed for use with most quarter turn applications, particularly valves and dampers, our valve Gearboxes are also self-locking by way of worm gear operation.
With custom machined mounting interface dimensions, the DT range of gearboxes are able to directly mount to a wide variety of valves and dampers. Available in output torques ranging from 500Nm to 33,900Nm the DT range of gearboxes is as comprehensive as it is versatile.
The standard range of gearboxes are cast grey or ductile iron, however stainless steel hardware components are available for off-shore or corrosive applications.
For more information please contact us for details.